The X8's hybrid combination of microprocessor and microcontroller offers developers unprecedented flexibility.
The company that fired up the maker movement has strategically grown into a full-fledged industrial partner over the past few years. The recent launch of their latest, most powerful module to date—a groundbreaking Arduino/Linux hybrid—shows just how far Arduino Pro has come. And it also sets the bar high for the further developments that are sure to open even greater opportunities for innovators everywhere.
The Gen Z and Millennial cohorts, who grew up tinkering with Arduino—perhaps getting their first taste of coding thanks to Arduino educational bundles—are now entering the workforce and progressing in their careers, bringing with them a whole new approach to technology and engineering. Compound this with the industrial internet of things (IIoT) and Industry 4.0 revolution, and what you have is tremendous potential for growth through innovation.
In this context, Arduino has evolved with its huge active user base—over 30 million people globally—expanding from the maker go-to brand to qualified industrial partner, enabling companies to seize unprecedented opportunities thanks to high-performance technological solutions.
The company's dedicated business unit, Arduino Pro, has collected a plethora of success stories and recently played a crucial role in securing Arduino a Series B funding round of $32 million led by the global deep technology investor Robert Bosch Venture Capital, which was joined by Renesas, Anzu Partners, and Arm.
Arduino currently offers a complete ecosystem that includes hardware, software, and an entire digital infrastructure with Cloud services, integrated development environment (IDE), web editor, and a command-line interface (CLI) for advanced users. On top of all this, Arduino still keeps everything it does intuitive, versatile, and open-source, so business clients can reduce complexity, shrink time to market, and improve return on investment (ROI) while steering clear of vendor lock-in.
Among the new ranges of modules rolled out specifically to meet industrial clients' needs, the Portenta family includes high-performance, industry-rated products designed to deploy powerful artificial intelligence (AI) algorithms and machine learning (ML) on the edge.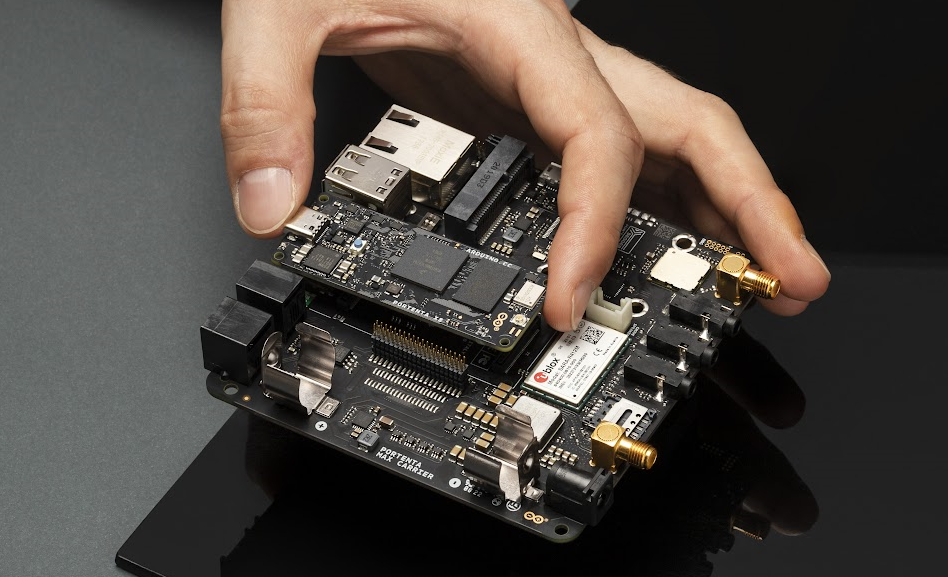 Within this concept, after the success of the H7 module, this spring Arduino Pro upped the ante with the launch of the Portenta X8: a powerful, industrial-grade system-on-module (SOM) with the Linux operating system (OS) preloaded onboard, making it a plug-and-play solution capable of running device-independent software thanks to its modular container architecture. Onboard Wi-Fi/Bluetooth connectivity allows users to carry out OS/application updates remotely, always keeping the Linux kernel environment at top performance levels.
The X8's hybrid combination of microprocessor and microcontroller offers developers unprecedented flexibility to complete real-time tasks and high-performance processing simultaneously and securely, running existing Linux apps on a system that puts them immediately in communication with Arduino microcontrollers. This innovative Arduino/Linux combination is essentially two products in one.
The multiprocessor platform features a compact form factor of 66 x 25 mm, with the STM32H747XI dual-core Cortex-M7 up to 480MHz + M4 32-bit Arm MCU up to 240MHz (as used on the Portenta H7), plus an NXP i.MX 8M Mini Cortex-A53 quad-core up to 1.8GHz per core + 1x Cortex-M4 up to 400MHz.
The X8 includes the customizable, open-source Linux microPlatform OS—using the cloud-based DevOps platform from Foundries.io—which has been created using best industry practices for end-to-end security, incremental over-the-air (OTA) updates, and fleet management.
Furthermore, the X8 has achieved PSA certification (see sidebar) and includes the NXP SE050C2 hardware security element to provide key generation, accelerated crypto operations and secure storage. It has also achieved Arm SystemReady certification (see sidebar) and integrated Parsec services, making it one of the market's first Cassini Products available to developers. This enables the migration of cloud-native workloads from the Cloud to the edge, and it contributes to a cloud-native developer experience across the brand's diverse and secure IoT ecosystem.
With Portenta X8, developers can leverage popular programming languages like Python, JavaScript, Java, Go and Rust among others. It was designed for edge computing in industrial contexts, but also lends itself to building automation and smart agriculture applications.
On top of this, any X8-based project can be effortlessly bumped up a notch with advanced features provided by the Portenta Max Carrier. This carrier can transform Portenta modules into single-board computers (SBCs) or reference designs for Industry 4.0, further augmenting connectivity options with LoRa, NB-IoT, and more, plus it can be powered via external supply or battery. In a nutshell, this carrier takes developers' innovation capabilities to the max.
With products like the Portenta X8, Arduino Pro has made a huge leap forward in terms of performance, security, and user experience for enterprise customers, keeping its promise to make everyone the innovator in their field: from smart cities to smart agriculture and from AI-powered factories to automated buildings, today's engineers can count on Arduino to get the job done.