Robert Cooke, CEO at Solidigm
The semiconductor memory business thrives on innovation, strategic alliances, and production efficiencies, but the challenges are legion too.
In the semiconductor memory business, every innovation counts as does every penny invested in technology and manufacturing advances. Recent investment and divestiture actions at the top memory vendors and their smaller competitors point to the significance of combining innovation with strategic initiatives to thrive in the marketplace, according to analysts and industry executives.
Memory semiconductor suppliers are being compelled to couple innovation with other strategic initiatives, including the addition of software suites and other IPs, collaboration with customers and, mergers and acquisitions that can help boost scale and create new opportunities for stakeholders. The M&A actions have led to the forced exit of some manufacturers, allowing survivors to hone their competitive edge by adding design engineering teams, technical employees, and production facilities.
Intel Corp. showed this trendline in the second quarter. Rather than doubling down on a losing business amidst huge technology challenges, the company announced steps to exit its Optane memory business, adding to other actions it had previously taken in the highly competitive market. By 2025, the company would have completely wound down most of its memory operations, depending instead on former rivals for its internal needs.
"We further sharpened our focus in the second quarter [by] selling our drone business and making the difficult decision to wind down our efforts in Optane, as we embrace CXL, a standard which Intel pioneered," said Patrick Gelsinger, Intel's CEO, during a call with analysts. "These add to actions last year in NAND and the sale of McAfee."
While Intel is exiting the memory market, other suppliers are digging in and expanding research, design, and other development activities, including the expansion of existing production facilities and plans to build new ones as in the case of Micron Technology. The company recently unveiled plans to spend as much as $150 billion over the next 10 years on new fabrication plants.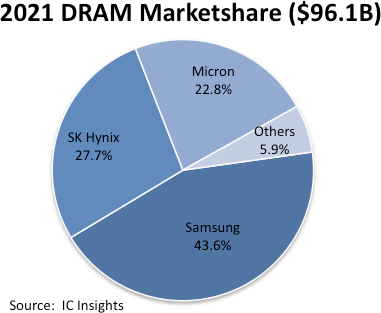 Memory makers are planning to add new fabs because they see opportunities to building competitive advantages through design engineering and collaboration with customers seeking innovative solutions in a wide range of product areas, including in AI, connectivity, data, cloud infrastructure and PCs.
SK Hynix is a prime example of a memory manufacturer that appears focused on setting the innovation agenda in the business. The company agreed in 2020 to acquire Intel's NAND business for a total of $9 billion but a chunk of that deal will close in 2025. That is when SK Hynix expects to take over all of Intel's remaining NAND assets, "including certain IP related to the manufacture and design of NAND flash wafers, R&D employees and the Dalian fab workforce," according to Intel when it updated the details of the transaction last December. If the deal closes in March 2025 as expected, SK Hynix would need to pay Intel the final bill of $2 billion, the company said.
New opportunities, new business
Reflecting the opportunities it sees in differentiated technology solutions, South Korea-based SK Hynix, did not pool the Intel acquisitions into its existing business. Instead, the world's second largest memory chip maker, floated a new business named Solidigm to explore what it calls "advancements in storage technology [that] are critical to unlocking data's unlimited potential."
Solidigm is owned by SK Hynix but based in Silicon Valley and headed by Robert Cooke, formerly head of Intel's non-volatile memory solutions group. It formally began operations in December 2021 to focus on creating what the company described as "next-generation SSD solutions optimized for data center applications through roles in hardware and software development, debugging, system engineering, and more."
"The establishment of Solidigm is an unprecedented opportunity to reinvent the data memory and storage industry," Crooke said in a statement announcing the creation of the company. "As a global leader of innovative NAND products and solutions, we are committed to expanding the possibilities of data that fuel human advancement – all while building a team culture that enables agility and excellence."
While Solidigm may be new as an enterprise in the semiconductor industry, its roots go deep in the memory market. It started life with billions of dollars in revenue from the old Intel business and the potentials for faster growth and market penetration under SK Hynix. Before agreeing to sell the business, Intel reported its NAND division had sales of approximately $2.8 billion for the first half of 2020 and contributed "approximately $600 million" to the operating income of its non-volatile memory solutions group business.
SSD in focus
Prior to the Intel NAND memory transaction, SK Hynix too had a long history in the SSD market, having introduced 96-layer 4D NAND flash in 2018 and 128-layer 4D NAND flash products in 2019. It promised to combine its own internally developed products with the Intel NAND products "to establish a higher value-added 3D NAND solutions portfolio, including enterprise SSDs." Those opportunities should widen as Solidigm becomes better established in the market and as it leverages design innovation opportunities in collaboration with customers.
The NAND flash market promises huge growth opportunities. Market Research Future sees the SSD market expanding to $86.5 billion by the end of this decade propelled higher by the growing demand for faster data access, "memory-driven infrastructure and remote edge deployments," and small-form factor products.
"Other benefits that SSDs can provide include durability & reliability, faster data processing than hard drives, lightweight & silent working features, and more practical sizes/form factors," the researcher said. "Today, SSDs are extensively used in businesses, gaming, smartphones, servers, and smart wearable & gadgets. Their compact design, low power consumption, and high speed make SSDs an indispensable component in smart wearable devices and gadgets."
Market Research Future expects the SSD market to growth at a compounded growth annual growth rate, (CAGR), of 15.2 percent between 2020 and 2030. This would make it one of the fastest-growing segments of the global semiconductor industry, which is forecast to expand at a strong but slower rate during the same forecast period. The SSD market growth rate is not expected to be uniform, though, with North America forecast to lead the expansion on surging demand from the data communications market.
The SSD market is also fragmented and may experience further consolidation in the years ahead. Current Players include companies like IBM, SK Hynix, Samsung, Micron, Toshiba, Kingston Technology, SanDisk, Lite-On, and Western Digital. However, these companies are not competing solely on production excellence and supply availability.
They are forming alliances, collaborating on product development, and striving to gain competitive advantages through mergers and acquisitions as in the case of SK Hynix and Intel. Design innovations and other technology initiatives have also helped the market leaders, according to industry executives and observers.
Samsung, for example, in July rolled out what it termed its second-generation Smart SSD, which can process data directly, reducing the transfers between the CPU, GPU and RAM. The new Smart SSD was jointly developed with customers who contributed software and other IP on in-built Arm cores. Collaborative development activities like this have become essential to push the technology forward as companies race to offer it as an alternative to regular HDDs.
"Commercialization of the first-generation SmartSSD, in collaboration with AMD, established that the computational storage market has great potential," said Jin-Hyeok Choi, executive VP and head of memory solution product & development at Samsung Electronics, in a statement. "With the upgraded processing functionality of the second-generation SmartSSD, Samsung will be able to easily address increasing customer needs in the database and video transcoding sectors, as we expand the boundaries of the next-generation storage market."
Samsung said the new SSD is powered by adaptive SoCs from Xilinx, a unit of AMD.
"The second-generation Samsung SmartSSDs enable improved CPU efficiency and greatly reduced energy consumption by efficiently integrating the computing and storage functions in data centers," said Sina Soltani, VP of Sales, AECG, data center and communication group at AMD. "As data-intensive applications continue to grow, second-generation Samsung SmartSSDs will deliver the superior performance and efficiency required for this expanding market."