OKW's BODY-CASE for wearable personal medical devices, alarm call, location detection, and dose metering.
The first thing clinicians and patients see and touch in the case of a medical device is the enclosure.
Healthcare is one of the most demanding sectors for electronics. Lives are at stake. Electronics designed for hospitals, general practitioner (GP) surgeries, and other clinical environments must represent the absolute pinnacle of quality, and visibly so.
In fact, medical electronics must exude excellence in terms of their aesthetics, ergonomics, functionality, and reliability. This all starts with the very first thing that clinicians and patients see and touch—the enclosure.
Every electronics enclosure—regardless of application—must be robust to a certain degree. That is obvious. But the medical sector can be particularly demanding. Devices will have a hard life. They will be used heavily day after day because constrained hospital budgets mean there is never quite enough equipment. And the equipment will be passed between many users, some of whom may be newer and less well trained than others due to staff recruitment and retention issues.
All of these devices have to withstand every hard knock that comes their way and still look as new as possible because no patient wants to be treated with equipment that looks or feels old and tired. In the not-so-distant past, electronics designers had to specify bespoke housings for their products. Back then, standard enclosures were simply too generic to meet the specialist requirements of the healthcare sector.
"All that has changed now," says Robert Cox, Vice-President of Marketing at OKW Enclosures, Inc. "The latest generation of standard plastic enclosures is application-specific and yet still highly versatile. It's as if they were molded as bespoke housings. They don't look 'standard' at all."
Thanks to new technology, enclosures can be customized very quickly in the small volumes required by manufacturers of highly specialist medical equipment. As a result, they can go straight to an OEM's production line, ready for installation of any printed circuit boards (PCBs) and other components. This applies right across the medical electronics sector—including desktop, handheld, and wearable devices—with electronics that are wired or designed to operate remotely.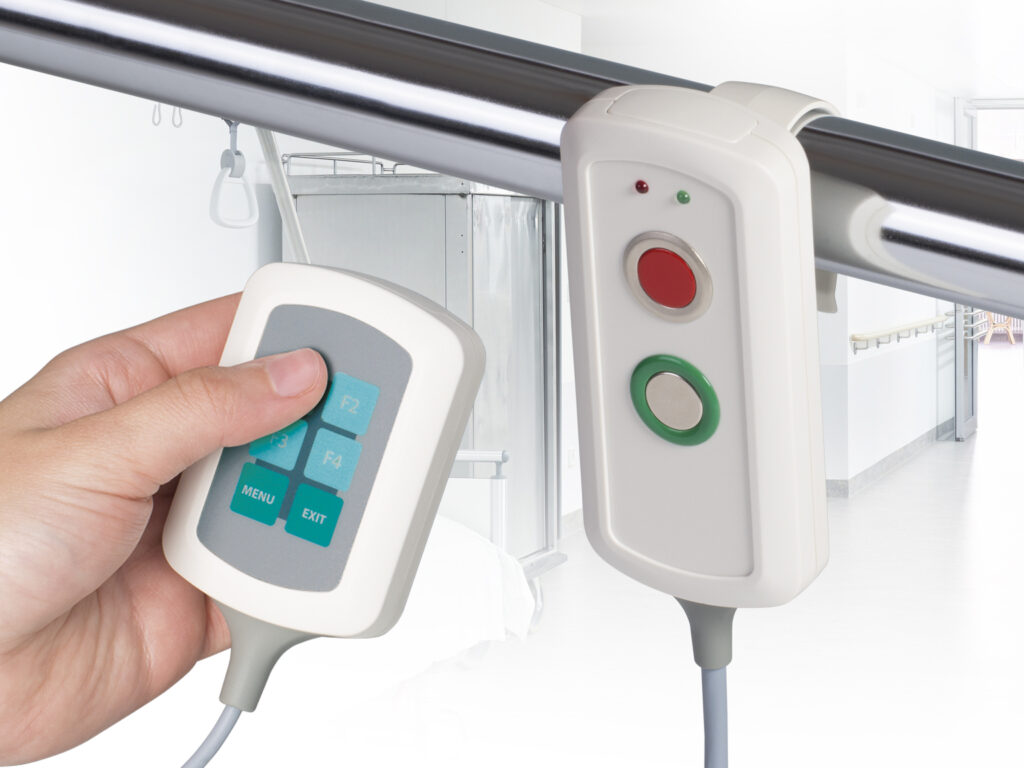 Enclosures for wired medical devices
Wired remote controls seem to proliferate in hospitals. Controllers wired to beds and monitors are the most obvious examples. These must remain attached by wire to the apparatus they are controlling, not least because the idea of infrared remotes going missing or being mixed up is unthinkable in a healthcare setting.
OKW's contoured CONNECT enclosures exemplify the genre. This housing comprises two snap-together enclosure shells—one convex—the other flat, offering electronics designers a choice of fronts. Cutouts enable the easy installation of accessory cable glands with kink protection and integrated strain relief. Accessories also include wall holders and bedrail clamps.
Like many of the latest generation of application-specific standard enclosures, CONNECT is molded from an ASA+PC-FR blend rather than ABS, which was the go-to thermoplastic in the past. ASA+PC-FR combines the UV stability of Acrylonitrile styrene acrylate with the strength of Polycarbonate to create a plastic with enhanced flammability resistance (UL 94 V-0).
Robust handheld enclosures for medical instrumentation
Enclosures for portable diagnostics apparatus and other medical instrumentation must be particularly resilient because this sensitive equipment has to survive life in A&E departments, intensive care, or in outdoor emergency response situations.
CARRYTEC (IP 54 optional) has a tough integrated handle equipped with a soft-touch insert for added comfort. This handle doubles as a grip when the enclosure is mounted inversely on a suspension arm. Accessories also include a rail clamp, docking stations for charging and data transfer, along with zipped side bags for probes or cables. These probes and cables can remain connected to the device at all times for speed and convenience of operation.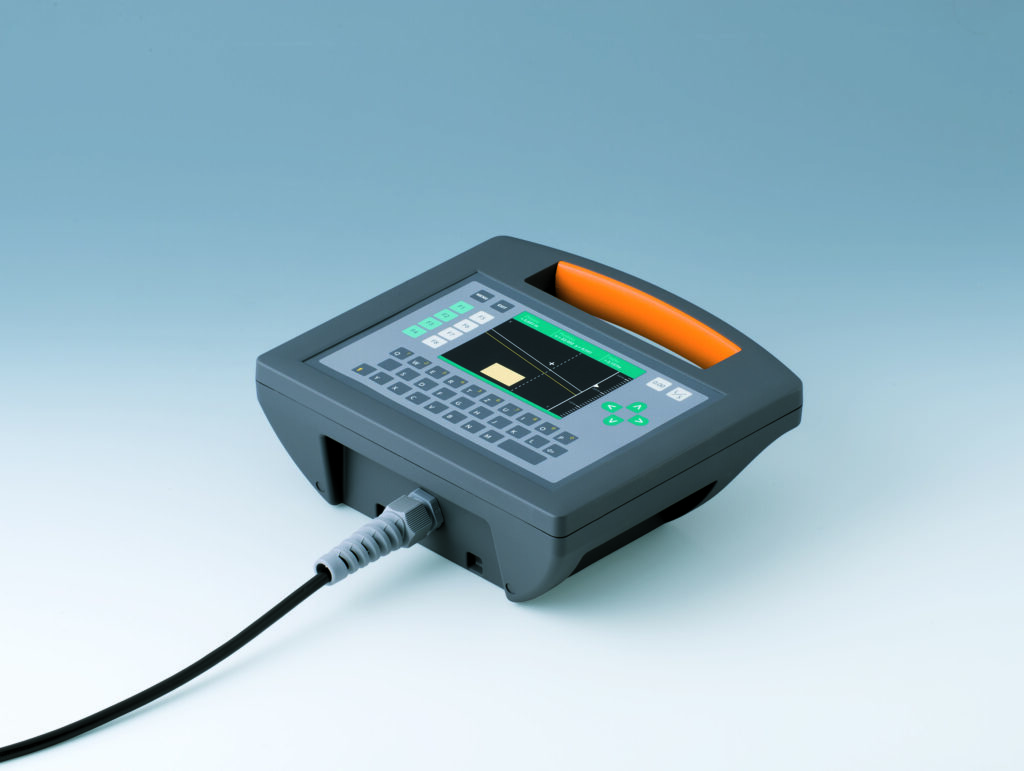 Ergonomic wearable enclosures
Handheld enclosures must always be highly ergonomic because—not surprisingly—they spend their whole lives being handled. However, the bar is raised even higher for wearable enclosures because they will be in direct contact with users for extended periods of time—worn by a doctor or nurse for a long and grueling shift, for example, or by an elderly patient as the lifeline care alarm they never want to take off.
BODY-CASE is a wristwatch-style enclosure designed to fit a standard 18 mm strap for a range of bio-feedback applications. It can also be clipped to a belt or pocket, or suspended from a lanyard. This makes it suitable for geolocation electronics but also frees up the users' hands for sterile clinical procedures.
Like CONNECT, BODY-CASE is also molded from UV-stable ASA. Unlike CONNECT, however, the two sections are assembled using tamperproof Torx screws, which is an important consideration for the medical sector. Sandwiched between the two ASA sections is a soft-touch TPV sealing ring that adds both IP 65 ingress protection and extra color for branding.
Control center enclosures for desks and walls
Versatility is important for desk and wall-mount enclosures. If one type of housing can be used in both settings, then so much the better, not just for continuity of design language but also for the very real savings that can be passed on to budget-conscious hospitals.
PROTEC (IP 65 optional) is a new square enclosure for wall-mount and desktop control electronics. It is available in three variants: Version I has a deep recessed interface area at the rear; Version II conceals this recess under a snap-on cover; and Version III has a screw-fitted larger cover that doubles as a desk stand. These ASA+PC-FR enclosures feature a larger recessed top that can accommodate a touchscreen display or membrane keypad.
All of the enclosures discussed here address the goals stated at the beginning of this article by
satisfying the needs of modern medical electronics products with respect to exuding excellence in terms of their aesthetics, ergonomics, functionality, and reliability.